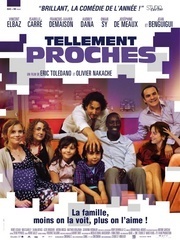 Genre

: Comedy, Drama

Duration

: 102 minn

Directors

: Olivier Nakache, Éric Toledano

Actors

: Vincent Elbaz, Isabelle Carré, François-Xavier Demaison

Year

: 2009

Synopsis

: Ever heard your mother say, "Be careful, honey, when you marry, you also marry the family"? When Alain married Nathalie, he wasn't quite aware of the extra baggage that came along in the happy-ever-after equation: her family. Satu...

Download Tellement proches Subtitles

English
Hebrew